 "My body is a precious gift that has been given to me for this lifetime. In it, my soul is living and my energy runs through it.
My duty is to preserve its health and vitality. This way I'm keeping connected with the collective wisdom of the universe. "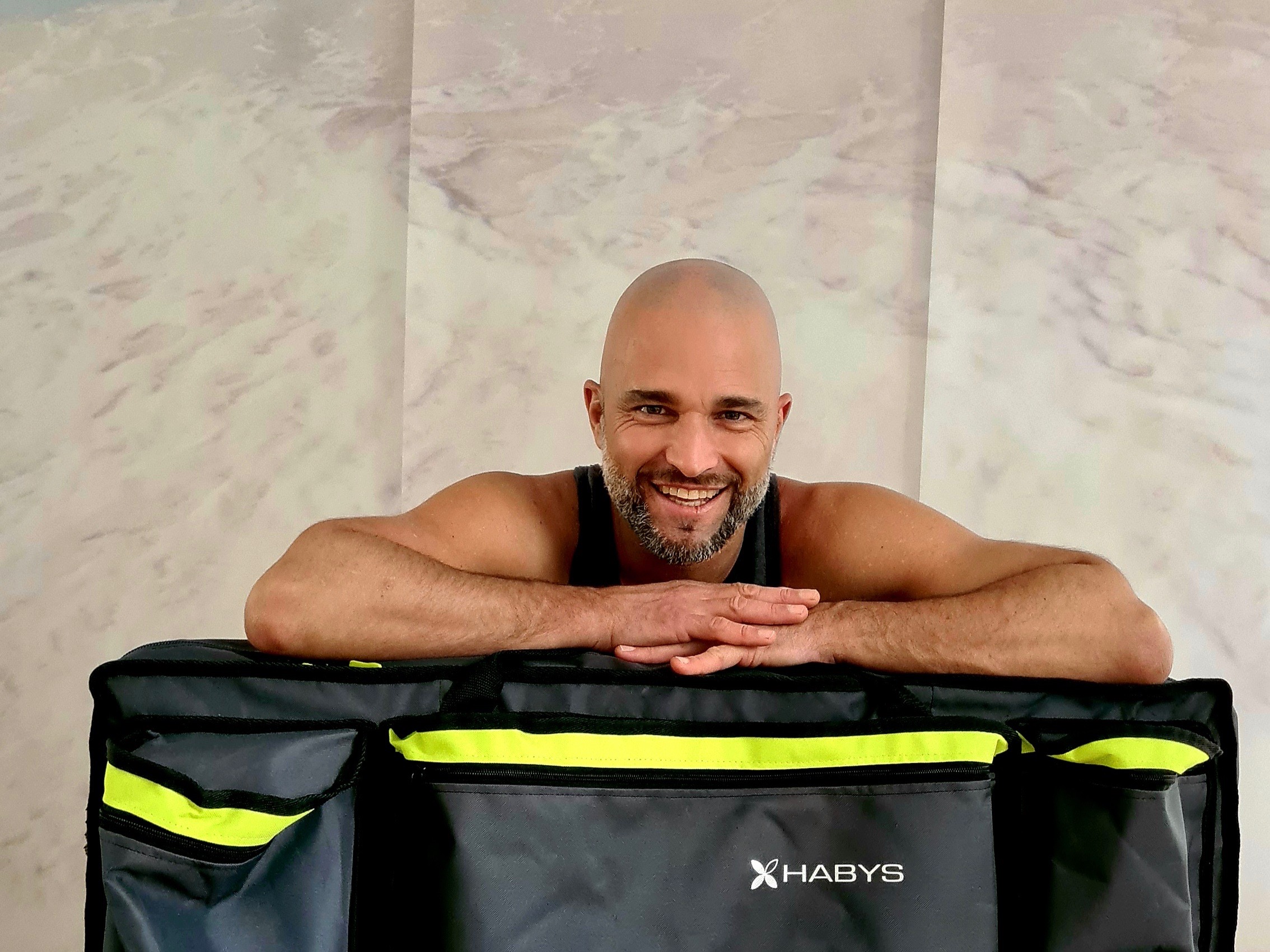 Welcome to AZZURRO. My name is Curzio. I am your therapist and the owner of this massage studio. Besides German and English you can talk to me in Spanish, Italian, or French if you feel more confortable with it.
My studio opens for you from 09:00 until 20:00 on MONDAY, THURSDAY, FRIDAY and from 09:00 until 18:00 on SATURDAY. Tuesday, Wednesday and Sunday I am closed. You can book your appointment via telephone 0159 061 160 18 or via E_Mail writing to curzio@azzurro-bodytherapy.com .
Based in Düsseldorf next to the Main Railway Station, AZZURRO can be easily reached by public transportation. Two big parking garages are at less than 200 m distance (Google Map link at the bottom of this web page).
AZZURRO – MADE BY THE SEA.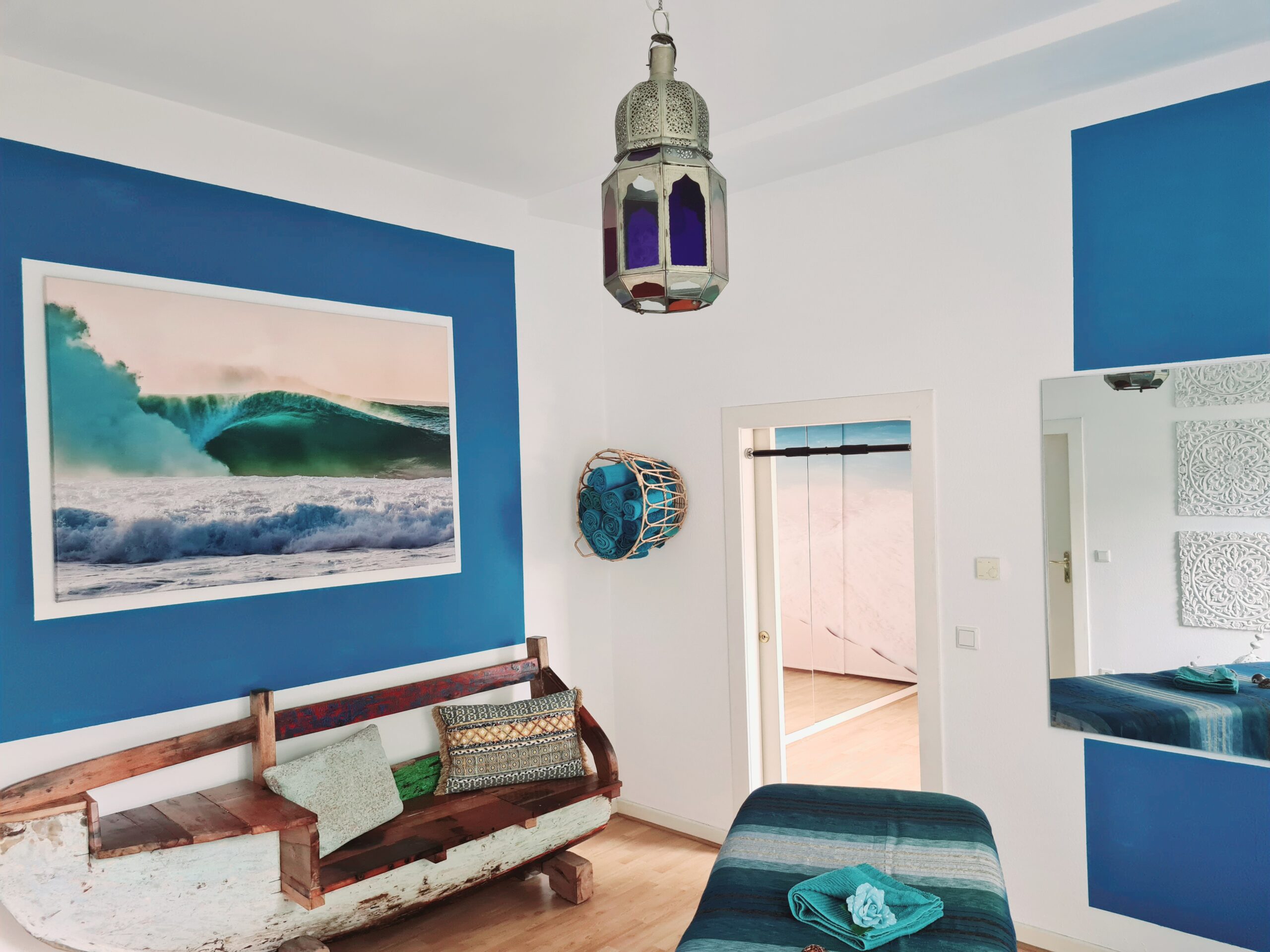 AZZURRO is made by the sea, the source of all inspiration here. Its name means blue, the colour of sea. Its logo represents a sea horse, which stands for the spiritual part of the treatment. The way of giving massage remembers the playful flow of the waves.
And off course the charmingly decorated interior design too is pervaded and inspired by the sea.
As a guest, I come here and I can easily step out of my daily routine and find myself in a warm and welcoming place that is valuing me for the person I finally am. I am ready to start my own journey through this world of relaxation!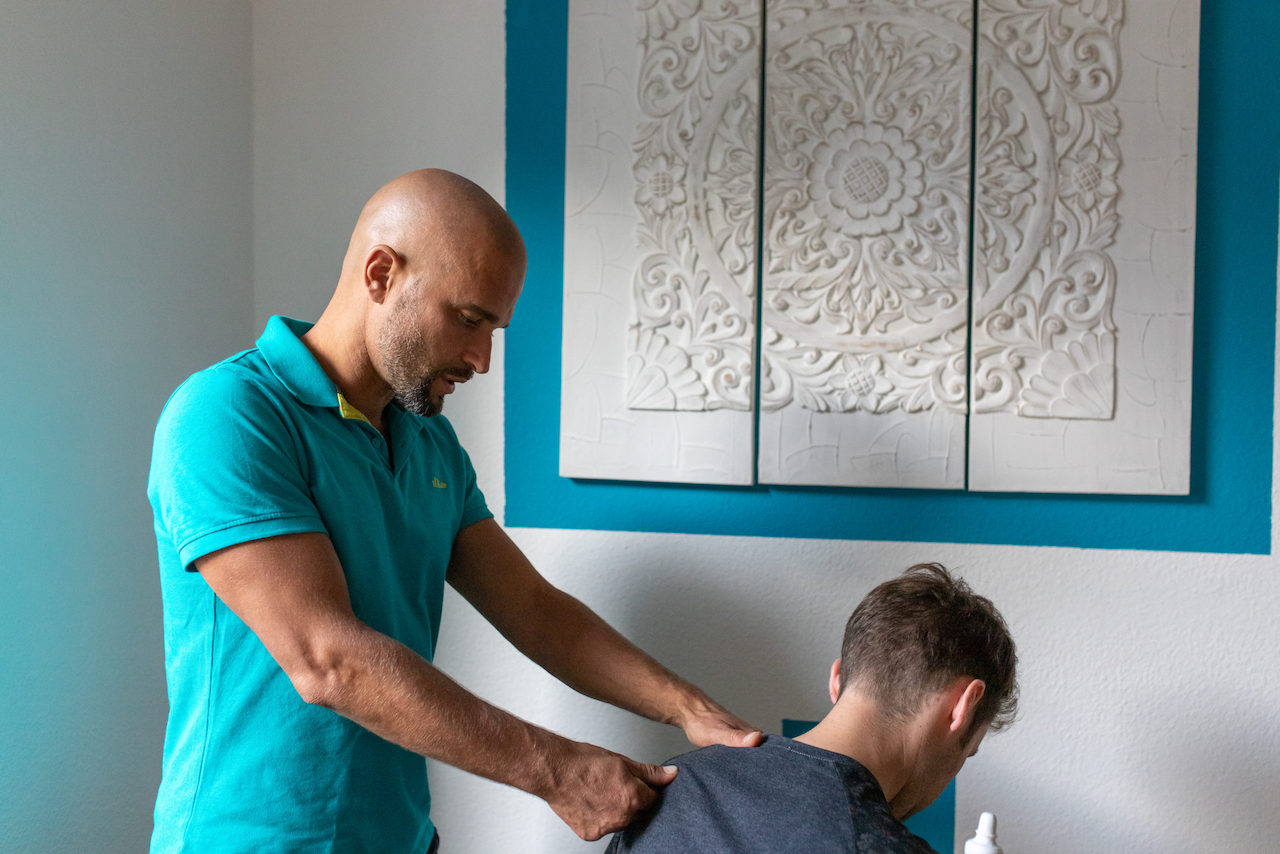 Manual Therapy
FULL PACKAGE: MOBILITY TRAINING, MANUAL THERAPY (CHIROPRACTIC), PAIN TREATMENT THERAPY, THERAPEUTICAL MASSAGE
2 hours – full package: 150 €
90 minutes – w/o training: 120 €
45 minutes – just therapy: 60 €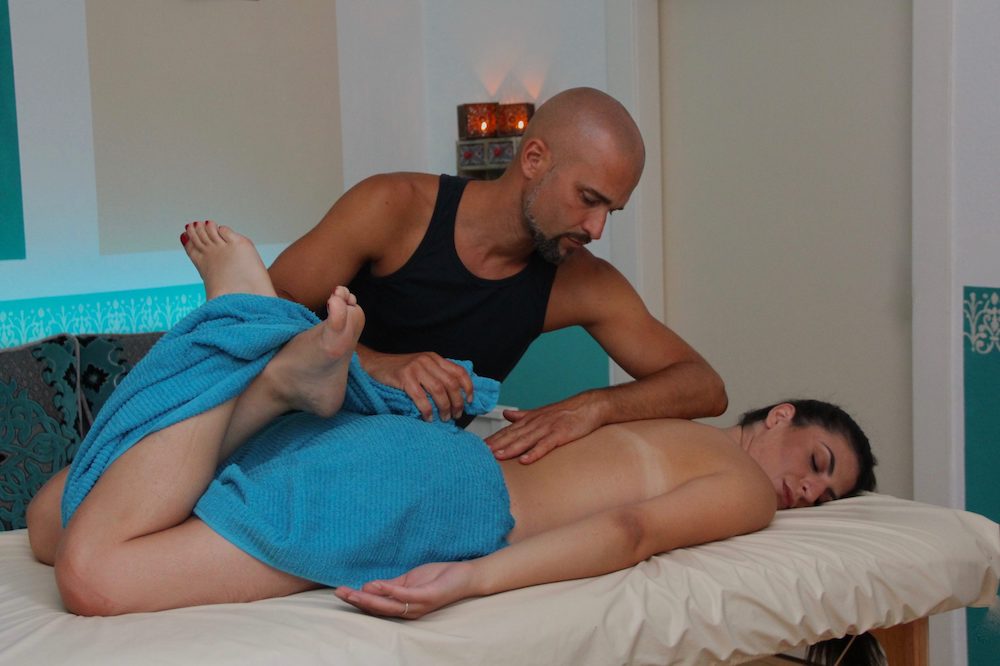 Massages
LOMI LOMI NUI – LOMI TEMPLE STYLE – ENERGY MASSAGE – SPORT MASSAGE – FOOT REFLEXOLOGY – FACIAL MASSAGE
70 minutes: 75 €
90 minutes: 90 €
2 hours: 120 €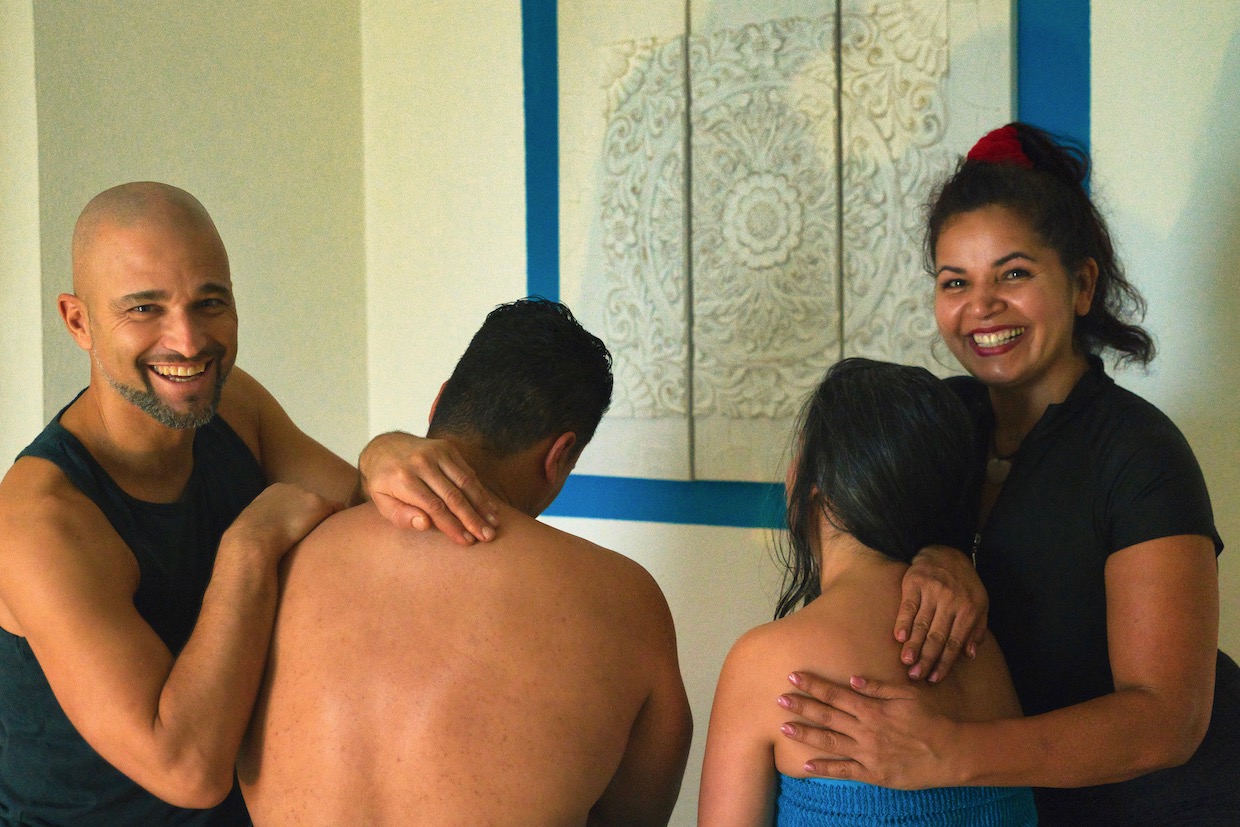 Massage for Two
LOMI MASSAGE FOR TWO
90 minutes: 105 € / person
2 hours: 130 € / person
LOMI FOUR HANDS MASSAGE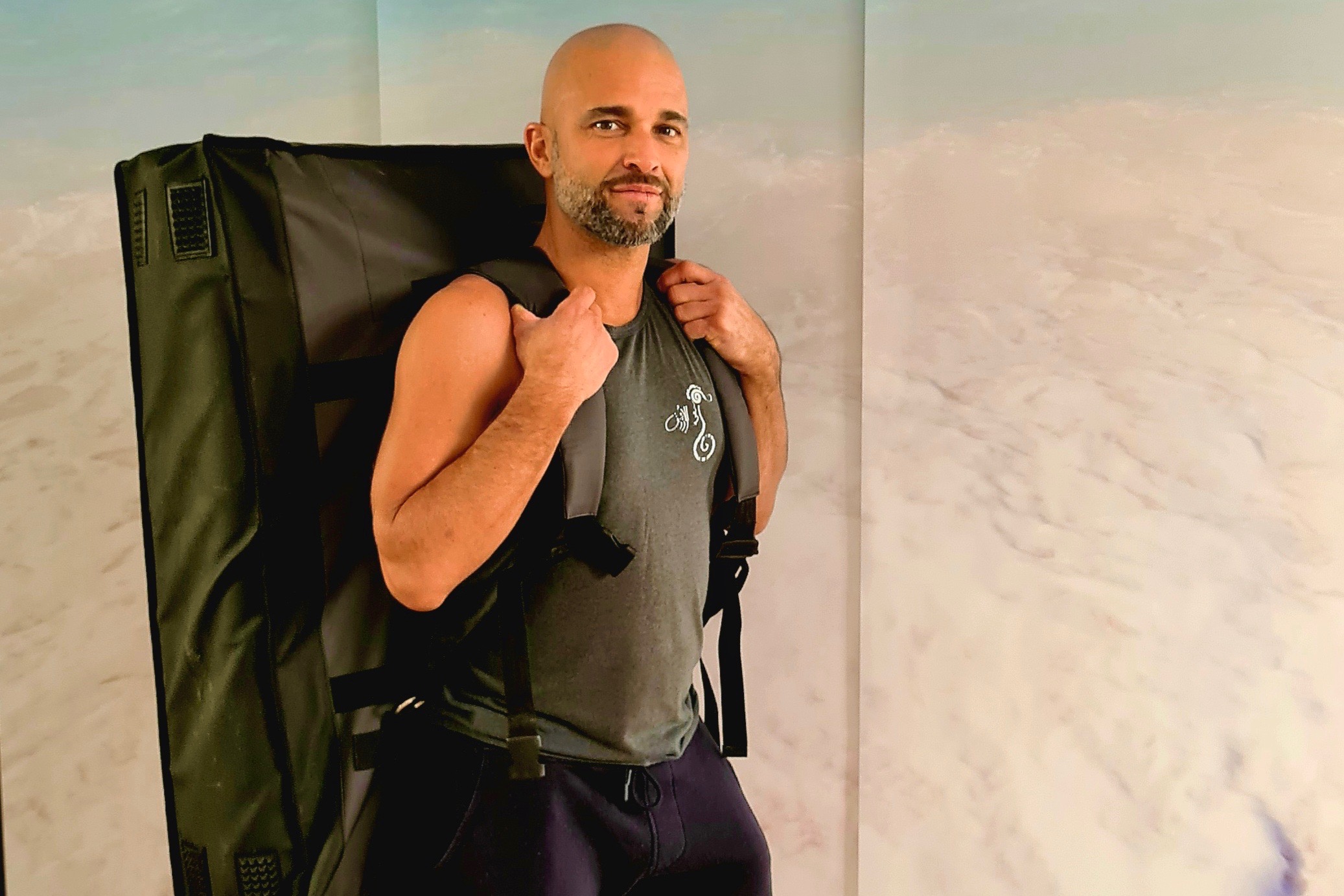 Home Events
1 to 2 PERSONS GET A MASSAGE AT HOME
EVENTS FOR GROUPS UP TO 3 PERSONS
90 minutes: 120 € / person
60 minutes:   90 € / person
THE MASSAGES
LOMI LOMI NUI / LOMI TEMPLE STYLE / ENERGY MASSAGE / SPORT MASSAGE / FOOT REFLEXOLOGY and FACIAL MASSAGE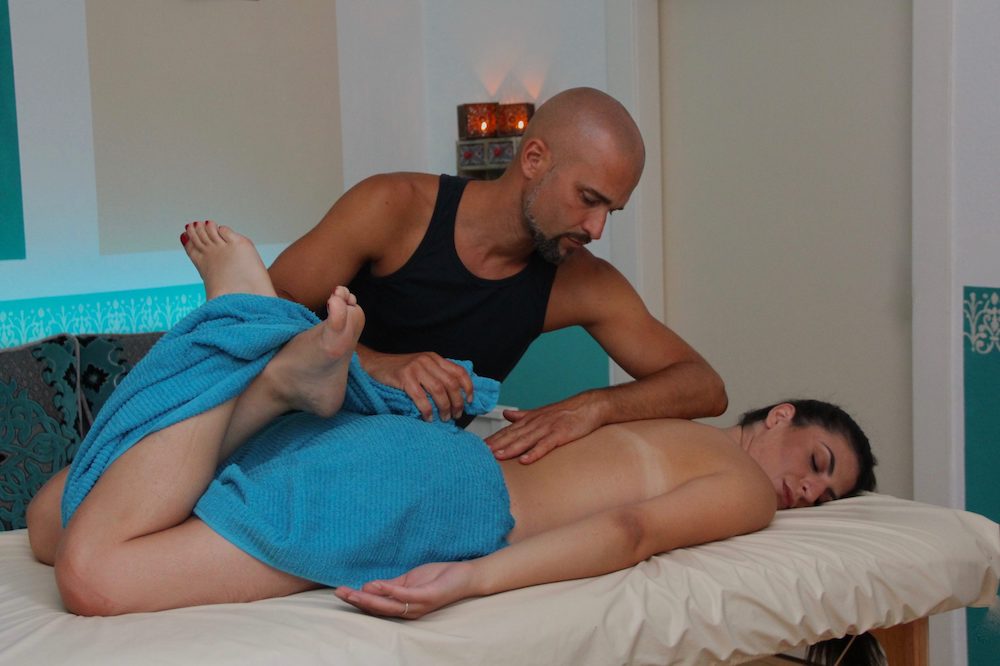 AZZURRO is the place where I'm going to find an unforgettable massage experience: sensitive, deep-acting, and professional.
The therapeutical massages (sport massage, foot reflexology and energy massage) bring me a powerful and releasing regeneration, kind of body reset. My neck pains, my back aches, etc. are sistematically massaged away.
The hawaian massages (lomi lomi nui, lomi temple style, and the hawaian facial massage) bring my body and my soul in harmony. Like in a dance coreography, their unique massage techniques flow together, playful, like ocean waves.
After my massage I am in best shape and I feel ready to go through life with more grace and ease.
WHAT CUSTOMERS SAY ABOUT CURZIO'S MASSAGE
(Translation) What a wonderful experience! This was my first lomi lomi nui massage and I am absolutely impressed. The main factor for that finally is Curzio himself. Before the massage is going to start he takes the time to get knowing his customers. Precisely for the reason that massages are that much personal and individual, I felt very comfortable with it. It is amazing for me how he goes through the different parts of the body and he detects during the massage even the slightest muscular tension. I'm definately going to repeat this experience again! If you trust him and you allow yourself to get involved with it you will be surprised to feel what will happen with your body. Thanks you Curzio for your presence and this amazing gift!
★ ★ ★ ★ ★  Christin
LOMI MASSAGE FOR TWO
LOMI MASSAGE FOR TWO

LOMI FOUR HANDS MASSAGE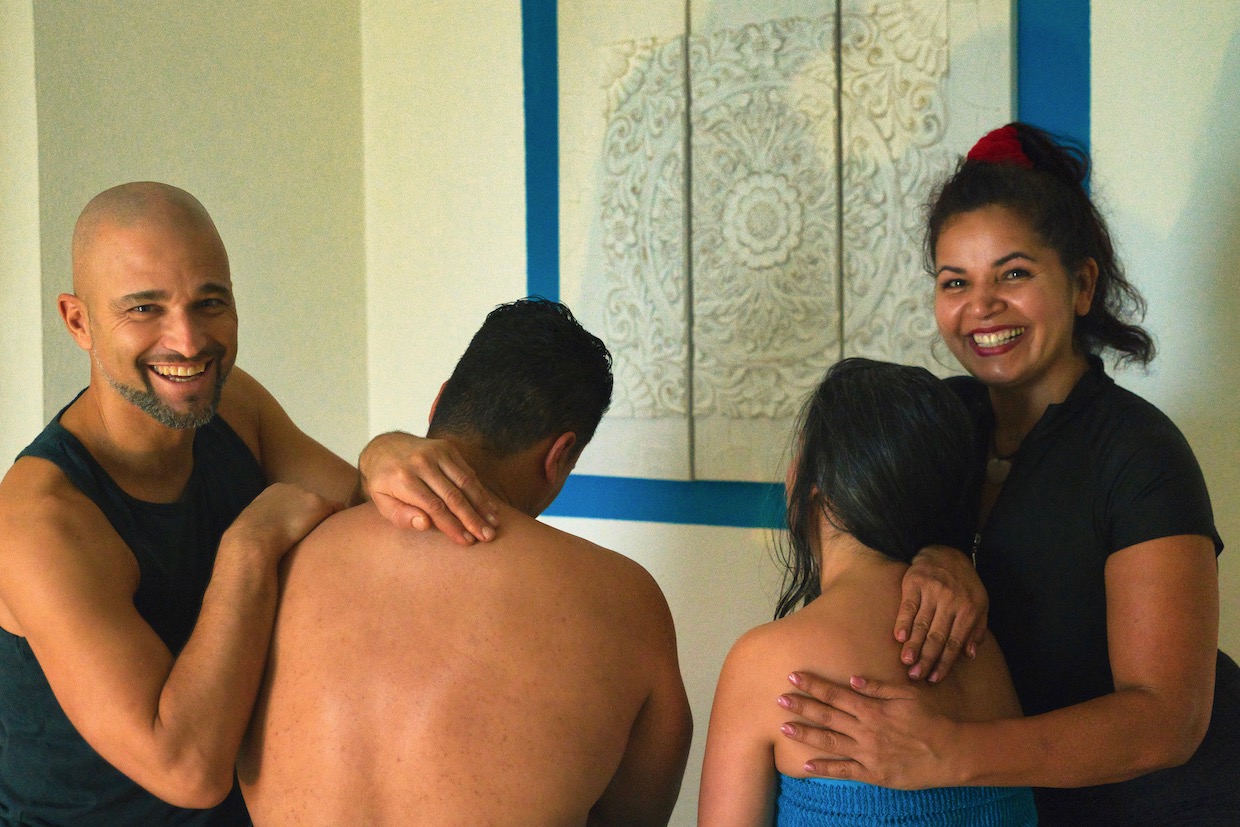 Maria (BRASIL MASSAGE) and Curzio (AZZURRO) provide together lomi lomi nui as a massage for two as well as a four hands massage. Four hands and two hearts create together a precious time-out from everyday life and grant us a short but intense holiday time into paradise.
A massage for two is ideally given to two people – a couple, two sisters, mother and daughter, or two friends – looking forward to consolidate their friendship and their relationship through common events. Two people take time for each other to share an incredible experience which takes them to a short holiday on a beache of a tropical island far away from home. 
During a four hands massage one single customer enjoys the entire attention and mindfulness of two professional masseurs which it eventually results into the ultimate indulgence and enjoyment ritual!
WHAT CUSTOMERS SAY ABOUT MARIA'S AND CURZIO'S MASSAGE
✨(Tranlation) A fantastic and unforgettable experience! Absolutely not comparable with standard massages… Both masseurs are incredibly sensitive and empatic. We succesfully stepped out of our everyday life. We can just highly recommend it!!! We felt like in Heaven,… we definately come again and again… many thanks to Curzio and Maria … ✨🤩
★ ★ ★ ★ ★  Angela and Marcus
MOBILE MASSAGE
ENJOYING A MASSAGE AT MY PLACE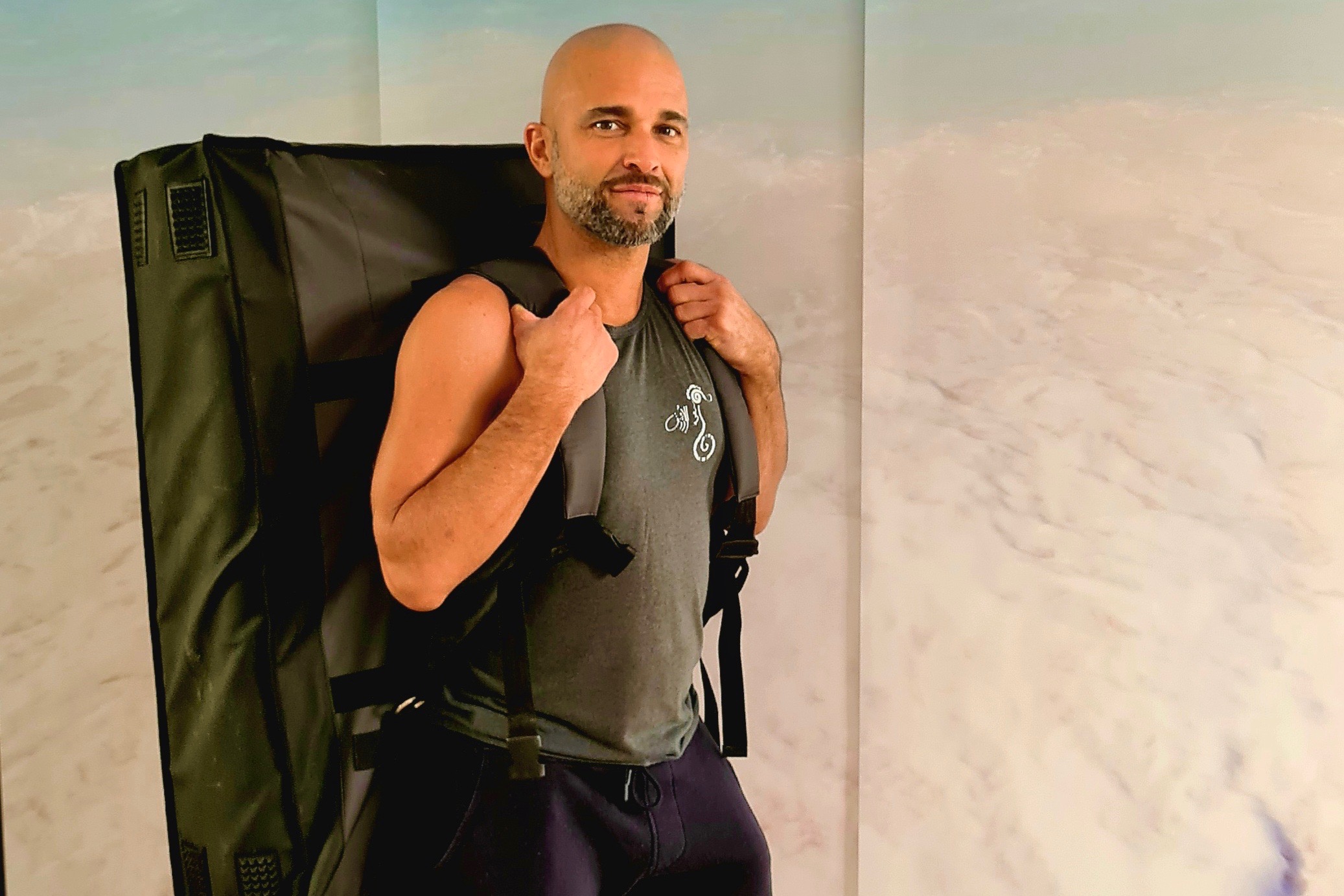 I can choose not to leave my home and to enjoy an energy massage at my place: alone, with my partner, or even inviting friends and family to a WELLNESS DAY!  One after the other, all my guests will enjoy a massage, while the others relax themselves on  my terrasse or in my living room with coffee and cake.
Such an event will definitely be long time remembered and all the lucky ones who were part of it will ultimately wish to repeat this experience soon again!
The energy massage is an harmonious combination of various massage types such as Thai Yoga and Sport massage with a generous Hawaian Lomi touch. It is performed on a floor mat made of cozy and warm sheep whool. For the ultimative relax sensation coconut or another 100% organic oil is used but I can also choose a dry version, more stretchy, where no oil is used.
WHAT CUSTOMERS SAY ABOUT CURZIO'S MASSAGE
(Translation) AZZURRO's bodytherapy released me from my muscular pains. I am a professional dancer and I got several treatments along my career… Curzio is more than just a professional masseur and therapist, he is very empathetic, he knows what he is doing, he could scan my body very well and provide the the most effective treatment. Very flexible in his scheduling, combined  with a good heart and a clear mind and great professional skills. Thank you sooo much! 
★ ★ ★ ★ ★  Maria D. 
MANUAL THERAPY AND CHIRO TECHNIQUES
REMOVE – STABILIZE – PREVENT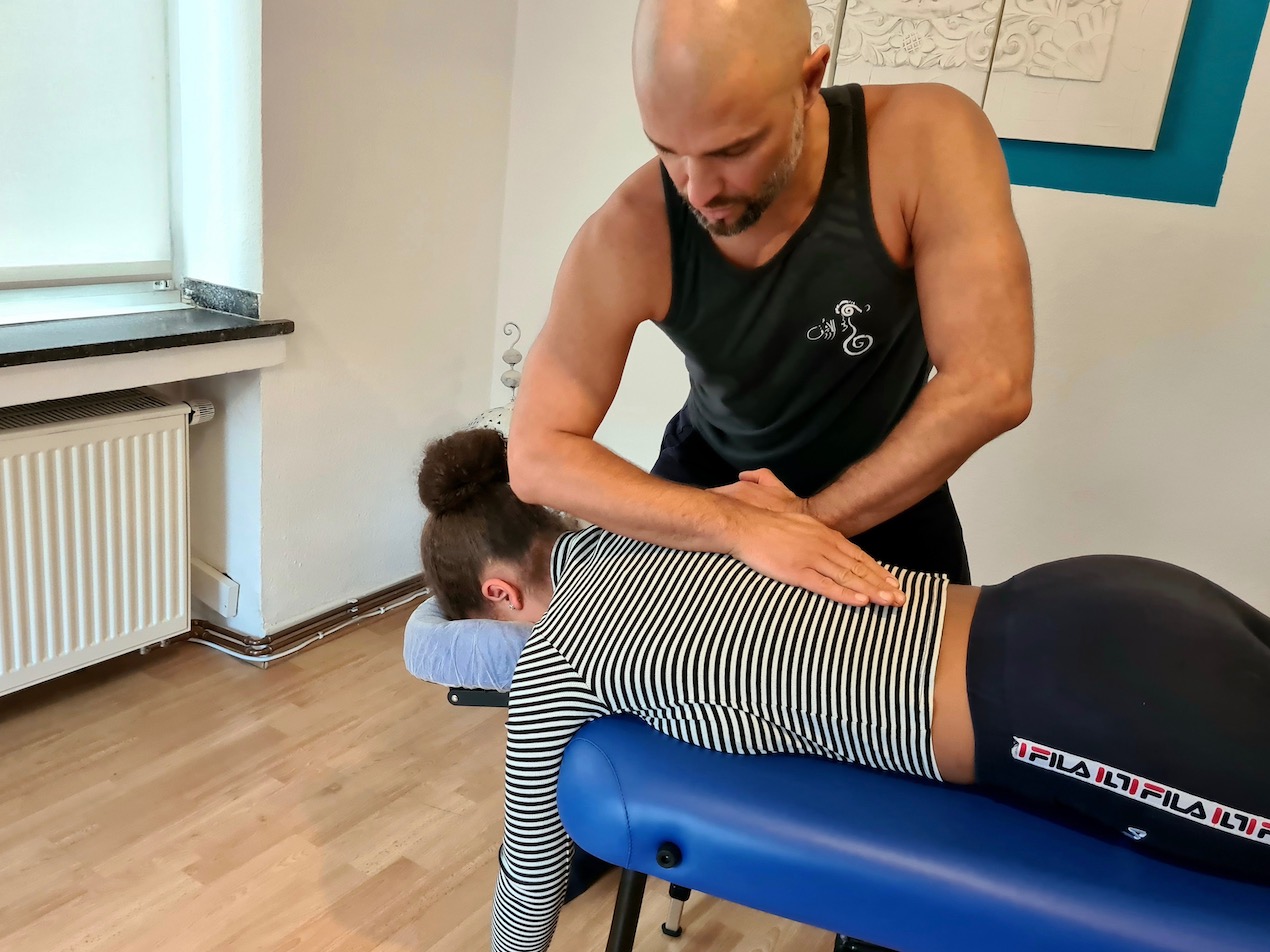 Manual therapy – better known under the term of Chiropractic in the English-speaking world – treats mispositioning of the joints, especially those of the spinal column. It employs specific and precise manipulation techniques that bring subluxated vertebrae back to their correct position.
Misalignments and blockages are believed to interfere with the self-regulatory functions of our body which are controlled by our nervous system. A series of disfunctional symptoms affecting nerves, muscles and organs appear  as a consequence of that.
Target of a manual chiropractical treatment is the restoring or re-balancing of all functional activities as well as the re-calibration of all interactions between muscles, joints and organs. 
WHAT CUSTOMERS SAY ABOUT CURZIO'S MANUAL THERAPY
(Translation) Curzio is a brilliant and professional therapist as well as an amazing person. Its treatment has in my eyes the full legitimation to be defined as holistic and as such its effectiveness lasts substantially longer if compared to a merely symptomatic attendance.
★ ★ ★ ★ ★  Alexander Joraschkewitz
PAIN MANAGEMENT THERAPY
PAINFREE FOR MORE LIFE QUALITY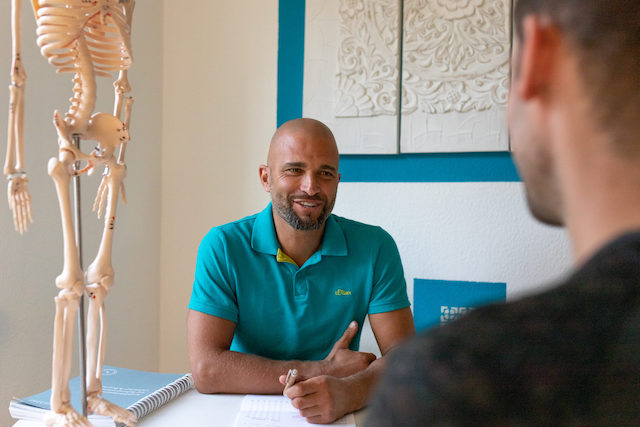 What is pain management therapy? It is a manual treatment that release me from my pains and tenseness.
It starts with a case history (anamnesis) in order to get a precise symptoms description.
The treatment consists in switching off the exceeding muscular tension using a manual technique called  osteopressure (selective points of pressure over the nerve receptors located at the muscle attachments to the bone structure).
Tensions get relieved, pains subside and a feeling of well-being spreads into the body. Now time has come to learn how to perform correctly specific therapeutical exercises which are crucial to reach a sustainable painfree status.
Finally a therapeutical massage brings the body into balance and into deep relaxation.
WHAT CUSTOMERS SAY ABOUT CURZIO'S PAIN MANAGEMENT THERAPY
I can't recommend Curzio highly enough. I was having pain on my shoulder for a long time. Before doing the treatment with Curzio, I spent about 5 months on regular visits to an osteopath with no real results. I was getting desperate because I exercise a lot for being a performance coach. Im so glad I decide to trust Curzio with his therapy methods. After implementing the exercises he showed me, my shoulder improved a lot. It took about 4 weeks of consistency but today I'm pain free! Thanks a lot Curzio.
★ ★ ★ ★ ★  Flavia Cortez